WE ARE LOCATED IN REAGAN, CROCKETT, AND UPTON COUNTIES IN THE SEMI-ARID PERMIAN BASIN REGION OF WEST TEXAS. If you're new to our site, visit the Cattle & Stallions page to find out more our program and view our current breeding stock.
Checkout our Sales Page, to view our latest sale offering!
THANKS AGAIN for visiting and please contact us for further information!
COATES RANCH is located in Irion and Reagan Counties where the Edwards Plateau meets the Permian Basin.  We raise registered Hereford cattle and Quarter Horses in the short grass country of West Texas.  The Coates ranch was established in 1905 by P.H. Coates.  About 20 years after establishing Coates Ranch, Coates' son-in-law, J.A. Queen, began building a registered Hereford herd, and a Coates family tradition began.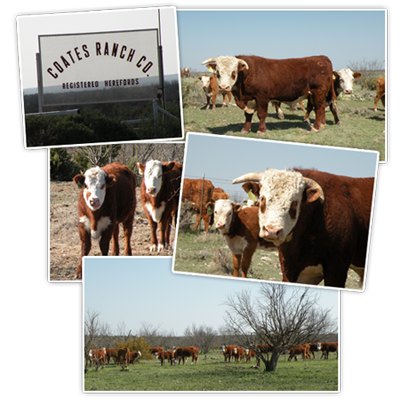 To schedule a visit or for more information, please call us!
• Phone: (325) 835-2531 •